New exciting psalms for the Swedish Church
The "Psalmer För Livet" records are a part of a project that started when Gothenburg's priest Lars Westberg was thinking about every Sundays special message, which he wrote down in verses in combination to his service preparations. The "Psalmer För Livet" were born, when musicians went through the lyrics. The material started to grow with the choir arrangements and the recording of the CDs. The result was not only the CDs but 70 new psalms to every happening during the important phases in Church.
Part 1
Päsk & Pingsttiden
1. Jesus är uppstånden
2. Fotspår
3. Korset är tomt
4. Din tomma grav
5. Vägen hem
6. Hjälp mig att växa i tro
7. Att be är att vara hos
8. Faderns härlighet
9. Kärlekens Ande
10. O Helige Ande
Part 2
Trefaldighetstiden I
1. Vad är en Gud?
2. Ett bad som renar
3. Jag får vara din
4. På egen väg
5. Du ser oss i din kärlek
6. Att vittna
7. Låt mig se och förstå
8. Över ängar, genom dalar
9. Du ser på mig med kärlek
10. Gud gör oss kloka
11. Mitt hjärta är en öppen bok
12. Friheten i Kristus
13. Trädet och grenarna
14. Lär oss att lita på dig
15. Allting är Herrens
16. Johannes, Johannes
17. Änglarna bor hos Gud
Part 3
Trefaldighetstiden II
2. Döden är en del av livet
3. Att leva
5. Helgon är den som vågar..
6. Dom som levde förr
7. Kom Herre och var med!
8. Rättvisa, fred och frihet
9. Jag är rik!
10. Förlåtelse utan gräns
11. Vaka och vänta!
Part 4
Advents- och Jultiden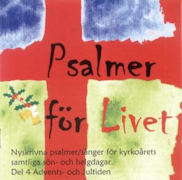 1. Han kommer till mig
2. Befriaren kommer
3. Precis som Johannes
4. Som barnet vilar
5. För dem som vandrar i mörkret
6. Martyrerna
7. Att vara ett barn
8. I vår faders hus.
9. Så alldeles stilla.
10. Du kom en dag.
11. Din härlighet.
12. Ge oss kraft!
13. Att vara rädd.
14. Du sådde i mitt inre...
1. Hosianna, Kungen kommer
2. Guds Ord
3. Du gick en väg som ingen annan gått
4. Hjälp mig att tro på dig
5. Jag vill så gärna kämpa
6. Det onda
7. Du öppnar din fadershand
8. Korset är ett synligt tecken
9. Kom och se
10. Ensam bland de många
11. Jag ser ett barn
12. Mor Maria